By Darci Graefser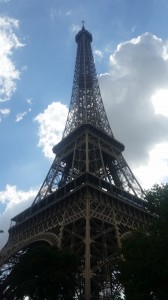 Today was our second full day as a group in Paris and it was incredible. I was able to view the two monuments I was most excited to see in France, along with the appreciating the artistry of Montmartre, the Place du Tertre, and Sacré Coeur. One of the first things we did this morning was visit the Eiffel Tower. Through the years, I have done a large amount of research on the Eiffel Tower and have become quite interested in it. I knew that the tower itself was huge (over 900 feet tall), but until I saw this beautiful iron monument up close,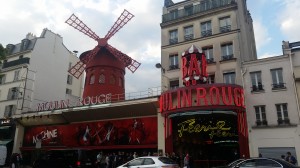 I never truly understood just how tall 900 feet felt from ground and sky level. Seeing the Eiffel Tower was an experience of a lifetime for me, something I have dreamed about since I was a little kid. It still feels so surreal that I was able to view the city of Paris from the top of the "Dame de Fer" ("Iron Lady"). After we were finished up with our group touring for the night and were able to break off into smaller groups, three other girls and I went on an adventure to find and see the outside of the Moulin Rouge. The film based on this club has been one of my favorites for years and I have longed to see that legendary red windmill that stands proudly out front of the Moulin Rouge since I first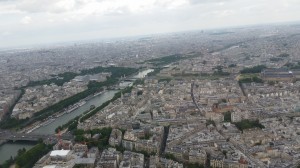 saw the film. Touring the city today helped me to really appreciate the care in the artistry and architecture that was used when designing each and every building throughout Paris. As I visited two of the highest viewpoints in Paris today, the Eiffel Tower and the Sacré Coeur, I was able to see an astounding overview of the city and see that the shape of each building in the city was in itself a work of art.