THE PROFESSORS:
DR. SHANNON FOGG
Hi! I am a history professor that specializes in Modern France, but I have taught a wide range of European history courses here at Missouri S&T. I am really looking forward to sharing our stories from France since it was my own study abroad experience that helped shape the person that I am today.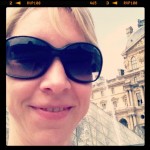 As a junior at Texas A&M University, I spent a month in France studying World War II. Before that semester, I was a biology major planning a future as a physician. I came back and changed my major to history and haven't looked back.
I completed my Ph.D. at the University of Iowa and my study of daily life in France during the war was published as The Politics of Everyday Life in Vichy France: Foreigners, Undesirables, and Strangers. I am currently working on a new book project that examines the looting and restitution of private Jewish apartments in Paris.
In addition to shaping my professional life, traveling to France changed my personal life as well. On my last research trip for my dissertation, I met a French man. We later got married and we have two children. We are a multicultural and bilingual family that feels very lucky to have an American and French background. Not only do I travel to France regularly for my profession, but I also go to visit family and friends.
Study Abroad was one of the best experiences of my academic career (I also studied abroad in graduate school and taught in the Missouri London program.) I am a huge advocate for international experiences and hope you will enjoy our blog!
DR. AUDRA MERFELD-LANGSTON
Bonjour! I am the (one and only) French professor at Missouri S&T, where I have been teaching since 2007. I teach all levels of language, literature, culture, and civilization. I fell in love with France and the French language at some indeterminate time during my childhood. During third grade, I participated in an after-school French program where I learned to say important things like, "Le train est grand" ("The train is big") and "Le chat est petit" ("The cat is small"). I also sang "Jingle Bells" in French and got way too excited when my teacher gave me my very own copy of Paris Match.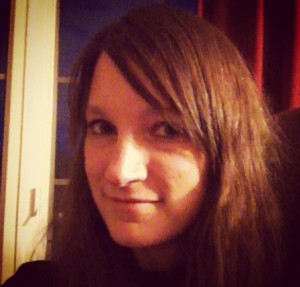 In college (at Clarke University in Dubuque, Iowa), I majored in English and French. At the time, I had no grand plans of becoming a French professor. I took some time away from school after graduating to work as a lab tech at an asphalt company(!) before leaving my native Iowa for graduate school at Penn State. I discovered that I loved teaching and went on to earn my Ph.D. in French culture and civilization.
I have now been to France numerous times. My first experience was in a summer study abroad program, during which I spent one week in Paris and five weeks in Annecy, a lovely town in the French Alps. While I was in Annecy, I stayed with a host family. I remember being awestruck at hearing the two little girls in the family speaking French (how can they speak so fluently and I can't?!) and I learned a lot from them. One of the most influential time periods for me in France was the year I spent teaching English at the Université Lumière Lyon 2 (in Lyon). During that time, I was able to improve my language skills, meet some great friends, and travel. One of my most memorable trips that year was to the D-Day beaches in Normandy.
Paris is one of my favorite cities and I know it well, having spent much time there for research. I work on contemporary French cultural politics and on the works of French writer Marcel Aymé. Last summer, Dr. Shannon Fogg and I both traveled to Paris to participate in a five-week National Endowment for the Humanities Summer Seminar, led by Richard J. Golsan and Henry Rousso. The theme was "France's Haunting Past: Recent Debates on Twentieth-Century French History and National Identity." It was this experience that prompted us to create the Missouri S&T summer study abroad on France and the Memory of War. We are looking forward to sharing our experiences with you!
Interesting tidbit: Shannon and I spent a year together at the University of Iowa, much of the time in the same building, without ever meeting one another.
THE STUDENTS:
BOB ALEXANDER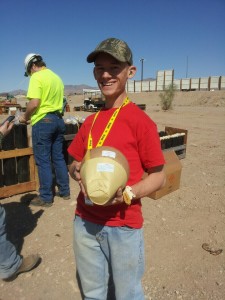 Howdy!  I am Bob and I was born in Mississippi and moved to Arkansas when I was 5 because of my dad's job but I have lived in Searcy, Ark. ever since.  I decided to come to S&T because of the explosives program.  I have always enjoyed playing with fire and shooting fireworks but I knew I wanted to make a career out of the explosives industry when I helped my dad blow a beaver dam when I was in middle school.  I came to S&T thinking explosives was a major but I realized it is only a minor once I began my courses.  Once I realized I had to choose a major I thought aerospace sounded good because I could use my aerospace and explosives together to build a missile.  I just recently realized aerospace is not the way to go and have switched to engineering management so I am as limited and I will be prepared to start and manage my own company should I ever get an opportunity.  I think it would be awesome if I can get a job as a contractor for the military or for a private company to help use my explosives expertise to develop new armor and better defenses for our military over seas.  I know several people who have been and they each told horror stories so if there is some way I can help then this would be it.
In high school I was in the Honors club and Spanish club.  I devoted myself to Scouting and earned my Eagle Scout award my sophomore year and continued to be active in Boy Scouts until I was 18, at which point I became too old and got booted out.  I still enjoy the outdoors and spend as much time outside as I can.  In my free time I will always be fishing.  No matter how hot or cold it is I will always fish when I have the opportunity.
It might sound odd but it was Dr. Bieniek that told me about this trip and convinced me to go.
JAMES (DREW) ALSOP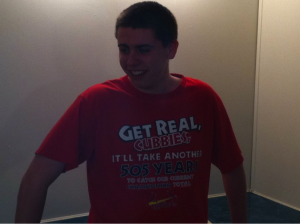 Hey, my name is James (Drew) Alsop.  I am a senior at Missouri S&T studying history, with an emphasis in education to hopefully become a high school history teacher someday.  I am originally from St. Clair, MO, which is about the half-way point between Rolla and St. Louis.  If you still have not heard of St. Clair, we are the town with the rest area in the center of the highway instead of on the outside like every other place.  One interesting fact about me is that I have never flown before besides in a small Cessna.  This trip will probably give me enough experience flying though, so I should have no problem once I get done with this trip.  The reason why I decided to do the study abroad was because I have never been outside of the United States and I love military history, so this experience in France will give me a greater understanding of what actually happened there during the war.
COURTNEY COCKS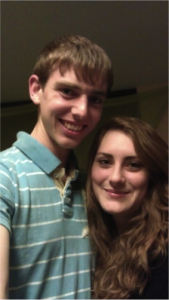 My name is Courtney Cocks. I am going to be a senior in geological engineering at Missouri University of science and Technology in the fall of 2013. In addition to geological engineering I am also perusing a minor in French. I have never traveled abroad and I am super excited to do so!
I started learning French my freshman year of high school simply because it was required as part of my pursuit of the International Baccalaureate Diploma. French was certainly not something I was passionate about at first. I couldn't decide which was worse, Spanish or French, so I drug my feet deciding which to take until the Spanish classes were full and I was forced into the French 1 class. Turns out I really loved the language!
Now at the end of my junior year in college I will be spending 28 days abroad studying the history and remembrance of WWI and WWII in Europe. I can't wait to learn about such important events in history shared by many countries and remembered in many ways. Plus I get to practice my French speaking.
CAROLYN HARPER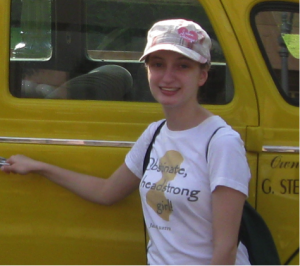 Bonjour! Je m'appelle Carolyn Harper.  I'm Carolyn Harper and I am from the southwest suburbs of Chicago, Illinois. I live with my family and our rather large orange cat. I enjoy reading cooking and watching movies with my friends. I just finished up my junior year at Missouri University of Science and Technology. I will have a major in Biological Sciences with a minor in French in May 2014. I have been studying French for 7 years and I am partially fluent. I am intensely interested in French language and culture and am excited to have this opportunity to travel to Europe. The classes, The Memory of War in Twentieth-Century France and Representations of Violence in 20th-Century French Culture, cover many of the aspects of French culture that I am in interested in as well as covering a fascinating time period in history. I hope to use this study abroad  experience to broaden my horizons and try an actual French crepe.
WILLIAM HAYS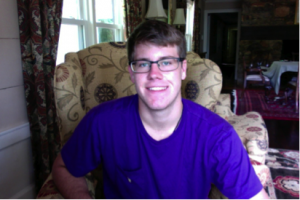 My name is William Alexander Hays. I am from Marietta, Georgia. I currently attend Auburn University, which is located in Alabama, and am aiming to get a business degree in the next few years. Specifically, I chose to go into finance. I got involved in going to France because I was looking for the opportunity to go and study abroad. However, I was not sure exactly where, and then my cousin Bob called me and told me that Missouri S & T was sending a group to Paris. I was very exited about this and got signed up as soon as I could. I currently do not speak any other language fluently; however, I do speak a minimal amount of Spanish. I have traveled to many countries, however have never been to Europe and am extremely excited about this opportunity. I look forward to finding myself in Europe and opening myself to a completely different lifestyle.
STEPHANI LIND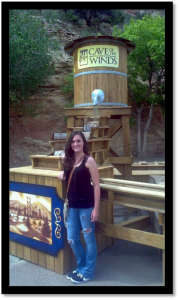 Hi, my name is Stephani Elise Lind. I am from Camdenton, Missouri, which most people know as the Lake of the Ozarks. I just recently became a junior at Missouri State University in Springfield. I plan to graduate with a Bachelor of Science in Nursing and to eventually become a Hospice Nurse.
I have been a certified scuba diver for almost five years now and I have dived in Hawaii and Cozumel, Mexico. In high school I took two years of Spanish, so I used to be able to speak Spanish pretty well. I can't speak Spanish as well as I used to, which is funny because my family and I go to Mexico at least once a year now. Another interesting fact about me is that I recently got engaged. My fiancé proposed to me on our one year anniversary  at a haunted house while I sat on a fake electric chair. That might sound pretty scary but actually it was the greatest day of my life! Some of my hobbies include playing the piano and singing. I have played the piano for nine years now but please don't ask me to play or sing in front of you, because I'm shy about it!
My parent's names are Dan and Cindy. I have two older sisters, Danielle and Kendra, both of whom are married with children, which makes me the baby in the family. Like I said earlier, I am recently engaged. My fiancé's name is Rob and he goes to school at S&T in Rolla. We first met on Halloween when I went up to him and complimented his costume, and ever since then we have been together.  I decided to take this trip, not only because my fiancé and I get to take it together, but because I feel like this is a once in a lifetime experience and an amazing opportunity.
STEPHENIE LYNCH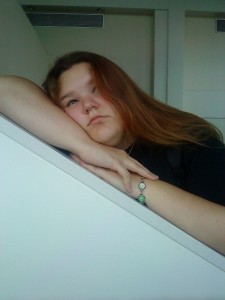 Bonjour! My name is Stephenie Lynch and I'm a senior in English at S&T. I am also working on my minor in History. I'm from a small town in Missouri that most people didn't even know existed – Bismarck – and graduated top of my class from the high school there. I've always wanted to travel abroad and felt that taking this trip to France was a once-in-a-lifetime opportunity, so here I am. I have a lot of hobbies and try to learn a new skill any time I have the chance. I have a very long list of "likes", but a few include: writing, sewing, cosplaying, drawing, playing piano, anime, listening to music (mainly foreign music), collecting books, and… I have far too many. On one note though, I love cosplaying and attending anime conventions whenever possible – I've even been able to work my way up to Journeyman level in masquerades.
It's a joy to meet everyone and I'm looking forward to our time together!
REBECCA MOSLEY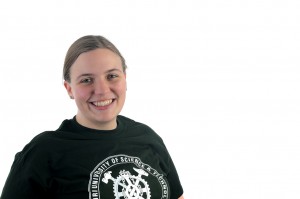 Hello! My name is Rebecca Mosley and I'm from Overland Park, Kansas. I'm a senior in architectural engineering with an emphasis in construction management, I have a history minor and I'm working on obtaining LEED Green Associate accreditation. I studied French throughout middle and high school and have dreamed about visiting Paris since I was 12. With my background in history and architecture, I'm very excited to be able to see the beaches of Normandy, the lights of Paris, and all the fascinating buildings, museums, monuments at both. Many of you have probably already seen me on the S&T homepage in my natural environment, the control room at KMNR – I've been a DJ since fall semester 2008.
CLAIRE QUINN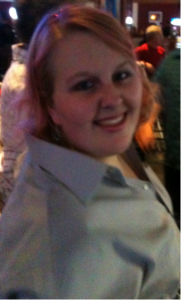 I am Claire Quinn. I am a junior and a history major. I also have a German minor. I am involved with History Club and the Associated Students of the University of Missouri (ASUM) on campus.  I am from Kansas City, Missouri. I have traveled abroad before. My high school had a sister school in Germany, so I went to a German Gymnasium for a week and lived with a German family. We then went on a bus tour through Germany, Switzerland and France. Ever since that trip I have been itching to get back to Europe. While on this trip to Europe I plan on seeing as many places as possible in my free time. Berlin, London and Rome are some of the extras on my itinerary. I am excited to have time to see the things I am really interested in this time around. Seeing where history comes from has always been one of my favorite activities. I know that I will continue to travel the globe throughout my life. It is just a convenient bonus that I get school credit this time.
GEORGINNA QUIROS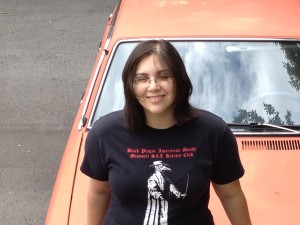 Hi, My name is Georginna Quiros and I am from Atlanta, GA. I used to be a computer engineer at Missouri S&T but I switched to history and I don't regret it! This will be my last semester (talk about finishing my degree with a bang) and I will graduate with a B.A. in history and a minor in pre-law.
My plans for the future include a second trip to France and law school for my J.D. I hope to become a lawyer that will aid the Hispanic community. I am interested in constitutional law, contract law, and international policy.
My backup plan is to attend graduate school for a master's in international studies. I hope to volunteer for the Peace Corps and work for the Department of Homeland Security to understand the relationships between the United States and foreign countries so that I can make tomorrow a little better for future generations.
My hobbies include painting and working on my one true love, my 1977 Datsun B210. It is currently my daily driver, but I hope to fully restore it to its former glory within the next 5 years.
I look forward to blogging about my trip to France! I will be the first member of my family to travel outside of the United States to Europe. I am nervous and excited and I hope my blog will provide insight into what a study abroad experience is like with Missouri S&T!
ROBERT REDMOND
Hi, my name is Robert McKenzie Redmond and I'm from Waynesville, MO. My parents, Wayne and Hildegard, moved to Waynesville after my father was stationed there for the Army. I have two brothers, Johannes and Bill, who are much older than me, so I'm the baby. I'm studying Psychology at S&T and will be graduating this fall! I decided to go to S&T because it was close to home. My dad was diagnosed with multiple myeloma and I wanted to make sure I was close to home for my parents. Luckily he's in remission, doing great, and my family couldn't be happier about it.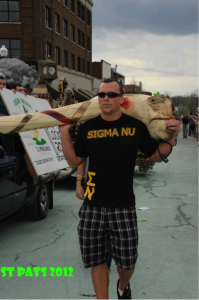 As you could probably tell from my family's names, I have a strong German background. My mom's family is all from Germany and the majority of them still live there. My dad met my mom after being stationed in Germany after Vietnam, and they've been together ever since. I've travelled to Germany a few times to see my family and I speak a little bit of the language. I'm going there for a week before the Paris trip with my fiancée and we can't wait to get there!
My family has a strong military background and it's extremely fascinating. Both of my grandparents fought during World War 2 but on opposing sides. My grandpa, on my dad's side, was in the Navy and fought in the Pacific. He was stationed in Perth, Australia, where he met my grandmother. Mein Opa, my mom's side, was a tanker for the German army. Every able male had to fight for Nazi Germany, so he had no choice. He fought on the Eastern front against the Russians. He nearly made it to Moscow but he got shot through the hand and suffered from frostbite. He surrendered to the Americans after having enough of the war. Many of my German relatives never made it back from the Eastern front. The war has played a major impact on my family and if not for war I wouldn't be here.
DELANCEY ROUGELY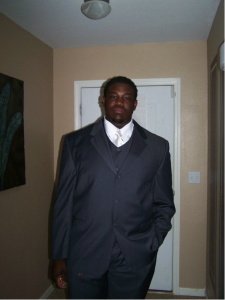 My name is Delancey Rougely and I'm a sophomore at Missouri S&T. I am a business major originally from Texas that moved to Missouri during high school. I currently play football at Missouri S&T and am in multiple clubs right now. I love listening to music and watching movies in my free time. Before this trip I've had one other experience abroad which was last summer. I went to the capital of South Korea, Seoul, for my first study abroad experience. I was by myself and it was my first time on a plane or leaving the United States so at first I was very nervous. After my time in Korea I was hooked. I wanted to discover other countries and have more adventures. I made many friends my first time abroad so I hope to do the same again. The reason I wanted to study abroad in Paris is I took two years of French in high school and I learned a lot about this country. My class mates went to France over the summer and I didn't have the money for it back then. Now that this opportunity arose I couldn't pass it up. I'm really looking forward to this trip so my next blog will be from Paris!
ZACKERY THOMPSON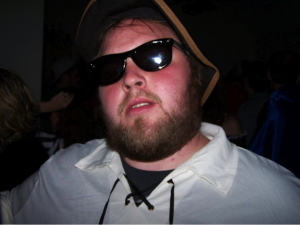 My name is Zackery Thompson. I am from Seattle, Washington, and I am studying history at Missouri S&T. Fall semester will be the start of my senior year, and I expect to graduate in December 2014. I am often asked two questions; the first is how did I go from Seattle to Rolla? The second is why am I studying history at an engineering college? How I ended up in Rolla is simple. My father was in the army, and retired at Ft. Leonard Wood, about a half hour down the road, and S&T was the closest school that interested me. The reason I am studying history here is pretty easy to explain as well. I was originally majoring in Information Science and Technology, but decided that I didn't like the field much, so I switched to a field that has always interested me greatly, history.
I decided to participate in this study abroad program because I have never travelled outside the country, and thought that this would be a great opportunity to do so, while also learning about one of the areas of history that fascinates me, that being military and battle history. I also realize as graduation, and adult life approach that I might not have another chance like this for quite some time.
I expect to have a lot of fun on this trip, and of course learn a great deal about French culture, and the impact of 20th century war upon it. I don't speak French, or any other foreign language, but I am hoping this will not hinder me too much.
COURTNEY WILLIAMS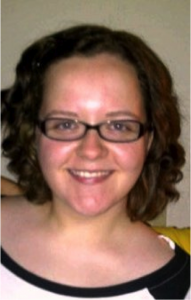 Hey! My name is Courtney Williams and I am from Bonne Terre, Missouri. Bonne Terre is a fairly small town in Southeast Missouri and the only reason anyone has ever heard of it is the mine that lies under it, threatening to engulf us all if we ever get a proper earthquake. (I'm kidding about this… probably.) I am studying English at Missouri S&T while pursuing a minor in chemistry and I plan to graduate next May.
I ended up at Missouri S&T because of my nephew, my friends, and the fact that I once thought I wanted to work in chemistry. One of those is no longer in play but the others are still as relevant as ever. I took French all through high school and originally did not plan to study it more in college, but then some space opened up in my schedule and I went for it.
I developed a love of reading at a very early age and that has stayed with me right up to my current job in a Rolla bookstore and the collection of hundreds of books I have to try to make room for in my tiny college-apartment living spaces. (Basically, I am a book hoarder… but in a "healthy" way. That's a thing, right?)
I decided to come on this study abroad trip almost as soon as I knew it was happening. I've never been out of the country and the only real travelling I've done was moving to Alabama for a year when I was eight. Needless to say, that didn't quite quench my wanderlust.
I'm looking forward to getting the most out of my next few weeks as possible and I could not be more thrilled to have this opportunity. Before the responsibilities of "real life" set in next year, I'm so thankful to be able to have such an immersive experience. There's no way I could have put together such an awesome trip on my own. For any readers not on the trip, I will try to keep my posts a bit more concise in the future, but just to be safe maybe only read mine when you're in need of a nap.
Au revoir!