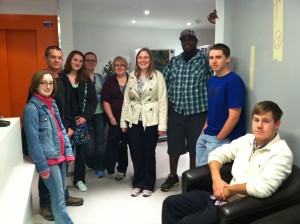 All of our students have arrived safely. Just getting to Paris was a learning experience for all of them. The past few days they have begun exploring the city.
Our hotel is located in the 10th arrondissement in Paris, only a five-minute walk from the Canal St-Martin. It is a nice neighborhood, close to the Gare de l'Est (a train station) and many restaurants. But it is not surrounded by the iconic  monuments we associate with Paris.
So when we took our first excursion on Monday, it was exciting to watch the students' expressions as we came up out of the metro station and they got their first glimpse of Les Invalides, with its golden dome. We visited the World War I and II exhibits there, and Claire presented a talk on war propaganda.
Later that afternoon, we met the students at the Arc de Triomphe. While Shannon and I were walking along the Champs-Elysées, we ran into Dr. Dan Oerther and his family! They are in France for a conference.
Today (Tuesday) we went for an all-day tour of the Somme. The students will be posting more information about these visits in the following days.