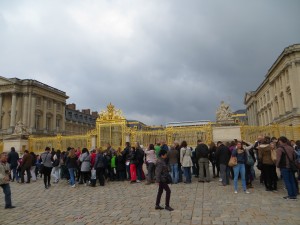 Today we visited the Palace of Versailles. As soon as you can see the palace in the distance the first thing you spot is gold. The closer I got to the palace I noticed the building itself wasn't the gold I was seeing but the giant gold gates surrounding the palace. The Palace of Versailles was said to have cost 2 billion dollars' for its construction, with over a 1,000 windows and a total of 67 staircases throughout. The Palace was built in 1624 and originally used as a hunting lodge. Later it was expanded by Louis XIV in 1669. Louis XIV himself lived in the Palace of Versailles as well as Marie-Antoinette. Once you step into the front doors of the Palace the first thing you notice are the beautiful statutes within the building as well as many gorgeous paintings and immaculate furniture.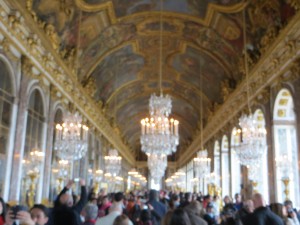 Walking through the Palace you come across a long corridor of mirrors covering the walls from floor to ceiling with crystal chandlers as well as more gold. This long beautiful hallway is known as the Hall of Mirrors. This Hall of Mirrors is not only breathtaking to walk through but is important as well. The Treaty of Versailles was actually signed in the Hall of Mirrors. This treaty was one of the peace treaties signed at the end of World War I. It ended the war between Germany and France.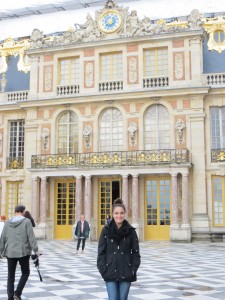 Behind the Palace is the Garden of Versailles. To be completely honest I was more excited about the gardens than the Palace itself. This royal garden is considered one of the most famous gardens in the world. The majority of the land is covered by finely landscaped woodland areas and several beautiful gardens with classic French style. Inside the garden there are more than 50 fountains, several statues made of marble, and flowers and trees spread throughout. Just to give an understanding of not only how beautiful this garden is, but how big, there are 200,000 trees, as well as 210,000 flowers planted annually. The gardens are definitely something that everyone should see at least once in their life. Getting to see the Palace of Versailles was an amazing experience. I have never seen anything more immaculate in my life, or more gold for that matter. But please prepare yourself for the most people you will ever see jammed together.