Saturday was a busy day for us as we prepared for students to arrive. We had lots of errands to run. We started out with a trip to a metro station to buy Navigo passes for everyone. These are cards that will allow unlimited public transportation (metro and bus) access within the city limits.
We met Delancey, one of our students, in the morning and helped him get settled in. Then we went to buy train tickets at an SNCF boutique for our upcoming trip to Normandy. SNCF stands for Société Nationale de Chemins de fer français, which is France's national railway company.
We searched for and found a traditional French restaurant for our group dinner Sunday evening. It was a little challenging because many of the restaurants we looked at in our neighborhood didn't have enough space or were not open on Sundays. There were also a lot of foreign restaurants that looked good (Thai, Indian, Chinese, Italian), but we wanted students to have a good French meal the first night.
Our next task was to reactivate my French cell phone, which required finding an Orange (the service provider) shop. We knew there was one at Les Halles, formerly a central marketplace in Paris and now a large underground shopping center, and we set out on foot. On the way, we passed an interesting appliance store. Parisian apartments are very small because of limited space, so the appliances must be small as well, and are often multifunctional.
We walked through Shannon's old neighborhood. She lived on this street for a year while she was working on her Ph.D.
In French, there is an expression, "Il pleut des cordes," which literally means, "It is raining ropes." It's roughly equivalent to "It's raining cats and dogs." When it started to rain, we decided it was a great time to take a coffee break. Cafés are an integral part of culture in France. People go there to relax, to meet friends, to work, and to people watch. Most cafés have indoor and outdoor seating. Because of the weather, we sat inside. The news this morning reported that France is experiencing the coldest spring since 1987! When the rain stopped, we continued on, passing the Centre Pompidou (a contemporary art museum), some interesting people, and this deceptively fenestrated building.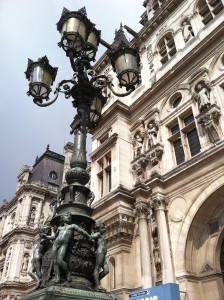 At les Halles, we got my phone reactivated. When we came outside, the sun was shining. We walked along the Seine as we discussed our plans for the students' arrival.
One of the great things about studying and traveling abroad is making new friends. Last year, Shannon and I both participated in an NEH seminar in Paris that provided the inspiration for this study abroad trip. One of our fellow participants, Philippe, who teaches French at Lewis & Clark College in Portland, Oregon, is also in Paris this summer. We had a traditional apéritif (before-dinner drink) with him and then went out to eat at a Cambodian restaurant. It was the first Cambodian meal for all of us and it was quite tasty. And it was great to catch up with Philippe!