It is the end of week 1 in France. I came to Europe early and my first stop was Italy. The trip to Italy was not what I expected at all. In places where there seems to be a lot of tourism, people tend to speak English. This was not the case in Italy. The public transportation in Italy is also not as expansive as in other major cities. These were the challenges Courtney C. and I took head on.
We did prevail and manage to see some pretty amazing things! Even things that would pertain to our class in Paris. In Italy they have memorials set up around the city just as they do here in Paris.

Then I arrived in Paris. Flying into Orly airport I could see the Eiffel Tower from the air, it was AMAZING! I felt so incredibly happy, everything just seemed much easier to understand and navigate. I heard people speaking English! The fact that some many of the Parisians can speak English makes me so jealous. I wish I had command of another language as they do. It was also very comforting to know that I would soon be joining a larger group of people. That way we could all be lost and confused together!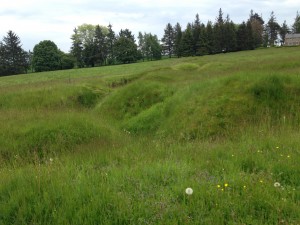 I've been to Paris before, but last time we did not go to the Somme, and I would have to say that field trip was my favorite. The trenches were amazing to see in real life.  You can almost get a sense of what it would be like to be dug in and not necessarily knowing what was happening on the other side.
I traveled to Berlin this past weekend. There is history jumping out at you from every corner. It is like nothing I have ever seen before. While in Berlin I stayed in a hostel. That was a brand new experience! Staying in a small room with 9 other guys and girls and sharing 2 showers and a toilet. Being in Berlin I got to use some of my German! I was really excited to be able to communicate with people using my language skill. I was able to ask people for directions when I got turned around, which seemed to happen every time I got off of a metro.
I did manage to wander to some interesting places that do have to do with our class of memories of war.
This memorial is very different. The blocks don't say anything, but the ground they are on is hilly, so you sink down into the maze and these massive blocks are all you can really see surrounding you. It was a very quiet place. The memorial is fairly new, but so is everything in Berlin. A tour guide even described it as a new city, and almost 1/3 was under construction or renovation while I was there. All of this because of the results of WWII, and Soviet occupation.
The Berlin wall, and reminders of it, are all throughout the city, with many outdoor exhibits featuring the actual wall and new art made to look like it. The new art was protesting against a lot of Communists as well as saying 'the next wall to fall is Wall Street'. They have to protect the wall, since so many people want to take pieces of it home, so it is behind fences.
I'm looking forward to the next part of our trip, and looking at it through the eyes of memory in war.