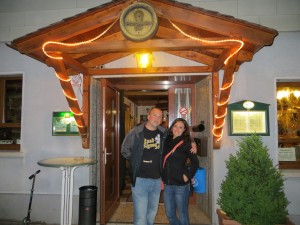 After being in Europe for a month I have seen more and done more here than I have in my entire life. Every day was something new and different. Not only did I have an amazing time but I was also able to share this with my fiancé. Our first stop of the trip was to Frankfurt, Germany, where my fiancé has family. Then we went on to Munich by ourselves just to explore and see the sights. We stayed in Germany for a week and I absolutely loved it. The people there were so nice and his family made me feel so welcome. Although only two members of his family knew English well and the language barrier was a little difficult, I still tried my best to communicate as best as possible.
One of the main reasons for coming to Europe was for a study abroad program in France for three weeks. The first two weeks we were in Paris and for our last week we were in Caen. Coming from Germany to France was completely different in terms of the culture, the people, the food, and of course, the language. Just when I was getting used to German, then I had to try to speak French. Being in Paris was a great experience. I got to see something new every day and learn so many new things. We visited many museums, memorials, and monuments, many of which were dedicated to World War I and World War II. The thing that I was most excited for was going all the way to the top of the Eiffel Tower and being able to see all of Paris around me. It was beautiful.
Every weekend my fiancé and I were able to leave and go do whatever we wanted. It was amazing just to be able to leave the country so easily just for a weekend. Our first weekend we went to London. While we were there we saw Big Ben, the London Eye, and so much more. Our second weekend we went to Dublin. Once we got back from Dublin we immediately jumped on a train to Caen for our last week of the study abroad program. In Caen we went to Omaha Beach. It was amazing actually being able to see the beaches and stand where there was once a war and where many sadly lost their life.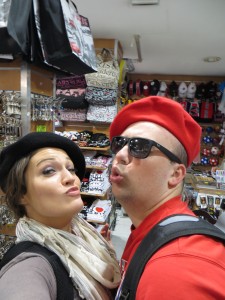 One of the stops I was most excited for was Edinburgh in Scotland. Edinburgh is one of the most beautiful places I have ever been to. My fiancée and I were so excited to be in Scotland but sad at the same time because our trip was coming to an end and we would eventually be on our way home. At first I thought being in Europe for a month sounded like a long time to be away from home. When our last day finally came around we then realized that the past month had gone by way too fast. Being on this trip has taught me so many new things and opened my eyes to the world around me. This trip was amazing and a once in a lifetime opportunity. I am so grateful I was able to be a part of this study abroad program. If you get the chance I would highly recommend doing a study abroad program, you definitely will have the time of your life.