Archives for June 2013
On Monday we visited the Pantheon where important people such as Jean Moulin, Jean-Jacques Rousseau, and Victor Hugo are buried.
This past weekend, the students had a break from coursework to explore Paris or other European cities. I traveled to Berlin to see a friend of mine who now lives there. It was my first time in Germany, and like Claire, one of our students who also visited Berlin this weekend, I found the differences from Paris striking. You can read about Claire's impressions here.
When designing the study abroad program, we purposefully scheduled four longer days of classwork during the week so that students would have long weekends to explore France and other European countries on their own. The students took advantage of this for the first time over the weekend. Some went to London and some went to Berlin while others visited places outside Paris that were of particular interest to them.  I was one of the people that took advantage of the weekend to visit a place I'd never been before. I went to visit a new museum that just opened in September 2012 in the Parisian suburb of Drancy.
We had a busy first week, and we have more in store for Week 2! During the first week, we focused a lot on the Great War and on getting settled in a new city. Paris is a huge cosmopolitan center and it's an adjustment for many people: new place, different language, diverse culture, distinct foods.
It is the end of week 1 in France. I came to Europe early and my first stop was Italy. The trip to Italy was not what I expected at all. In places where there seems to be a lot of tourism, people tend to speak English. This was not the case in Italy. The public transportation in Italy is also not as expansive as in other major cities. These were the challenges Courtney C. and I took head on.
We did prevail and manage to see some pretty amazing things! Even things that would pertain to our class in Paris. In Italy they have memorials set up around the city just as they do here in Paris. [Read more…]
Coming to France was not a big culture shock, but it sure is different from American culture.  I have had many different experiences with their culture, such as how to eat for one example.  French people seem more sophisticated when it comes to eating food.  They eat their pizza with a fork and knife, which is different from picking it up with your hands and eating it, which is what I do and still do over here after using the fork and knife for a little bit.  Another thing French people do with food is eat their fries with a fork using mayonnaise as a dipping sauce instead of ketchup.  This seemed weird to me, but I tried the mayonnaise with the fries and it tasted okay.  The French also eat meals slower than Americans do.  They will sit down for a meal at dinner time for several hours and slowly eat their meal; they do not rush through it and the restaurant owners are not as worried about flipping tables as quickly as the American restaurants do.
Now a place where the French are not slow is on the metro moving about the city.  People will run you over to get on a train and will get frustrated with you if you move slowly in front of them and they cannot get around you.  Once on the train people will rush for an open seat. To avoid that I just stand because it is easier.  The metro system as a whole though was somewhat frightening to use at first, but after that it turned out to be very simple to use even if you do not speak French.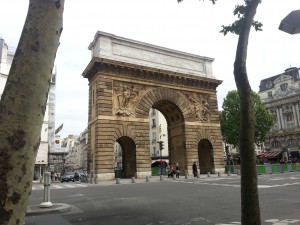 I believe that the biggest thing that has shocked me the most is having everyone around me speak a different language.  I knew this would happen because of course I am in France, but I did not realize how relieved I would be when I started going to different tourist sites and being excited when I heard someone else speak English who was not part of our group.  Now some of the French people do speak English, but they learn  British English, so when they ask you for fries they say chips instead, which is different, but easy to understand. [Dr. Langston's edit: there are all kinds of English accents here, not just British.]
I am excited for many of the different things we have planned for the next two weeks here in France and for many more experiences I am bound to have.  If you are thinking about doing a study abroad experience later in your school career I would certainly recommend it.  You will meet many new and different people, even people whom you go to school with and have never seen. You will bond almost instantly.
On our tour of the area involved in the Battle of the Somme we learned a lot about the events leading to the Great War, the daily soldier's experience, and the various armies that participated in the battles. The amount of blood shed, life lost, and fierce, violent combat was shocking to learn about outside of a classroom. Throughout school we learn about several key battles of the War, and we always read that they were bloody battles, but being at the actual battlefield, seeing trenches, and craters brings a whole new reality and appreciation for the nature of this War.
I was extremely exited to have this opportunity to leave the United States and come to Paris. Upon my arrival, I was immediately immersed in the true definition of French culture. We did end up having some trouble getting into our hotel, and finding it. Once we finally got out of the metro, we realized that we had no idea how to get there, and both of our phones had died from the plane ride and so we had to go to the nearest restaurant to charge our phones and use the wifi because we were lost in a new city. However once we finally got settled, I could then begin to appreciate the way of the French. I was very relieved to find out that most French people are super nice, and friendly, especially when I need to ask for directions, which I did have to do  many times my first few days in the city, even still sometimes. France is a very beautiful county, and I was not aware, but am now, of how much history there is here. You don't even have to look for it, as it is everywhere. Even on the way to my hotel, we passed a beautiful, old and Gothic-looking church, and I did not think about it at the time, but now that I do, that building is probably older than America, which is a very perspective-altering thing to realize. Being brought up in such a young nation really shelters my knowledge of the history of the world. Also on one of the tours that we got the privilege to take, our tour guide pointed out the very first Gothic building ever to have been erected. This really fascinated me as I love architecture and the different styles of buildings that the world has seen. I look forward to learning so much more about the history, memory, and culture of France.