Week two of our study abroad trip is already behind us. As a teacher, it has been rewarding to see how far the students have come in their abilities to navigate around the city, order food by themselves, interact with locals, and communicate in basic French. In addition, students have become much more adept at "reading" the landscape around them. When they first arrived, they walked by many types of war memorials without noticing them. Memorials are in plain view throughout the city, but with so many other visual elements competing for attention—people, advertisements, stores, sculptures, architecture, traffic—they can escape attention.
Now students are scanning the sides of buildings for plaques and searching for signs and statues—on the sidewalks, on bridges, and in parks—that commemorate wars (and their victims and heroes) in some way. Some plaques indicate that a member of the Resistance lived in the building or was shot down nearby. Plaques on schools indicate the number of Jewish children who attended during World War II and who were deported. Some plaques and monuments focus on the glory of war heroes and thank them for their service and patriotism. There are also memorials, but not many, that focus on the complicity of the French government with the Germans during World War II. Students have been learning to decipher these "signs" (in the broadest sense of the word) and analyze what they say—and don't say.
The principal topic of our classes is on the memory of war in twentieth-century France, so we have been talking about and visiting some sad and disturbing places. However, students have also been taking advantage of the lighter side of Paris. They have been getting out, exploring the city, and having fun.
One of our literary readings for the course was an excerpt from Marcel Aymé's The Transient Hour, a novel set in Occupied Paris. In addition to his war stories, Aymé wrote many fanciful works, for which he was well-loved and admired. We visited the plaza in front of his home in Montmartre, where there is a statue depicting Aymé as a character from one of his stories, a man who can walk through walls. Zack discovered that he has not yet developed this ability. Dr. Fogg and I got through the wall just fine.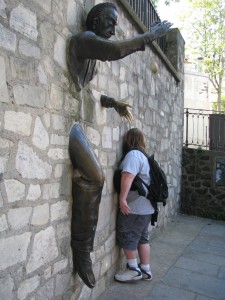 The Louvre was a popular outing with our students. In addition to getting to see some great works of art, they were able to have some great fun, too!
Students have been carefully planning their wardrobe to coordinate with our outings. Rob wore his zombie T-shirt to Père Lachaise Cemetery and Rebecca wore her queen T-shirt to Versailles.
We've been eating new foods.
We've been developing new notions of personal space on the metro.
We've been taking lots of pictures.
We went for a fun evening river cruise on the Seine.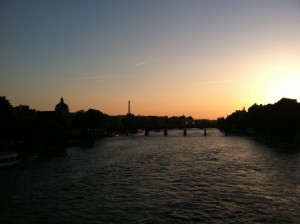 Best of all, the entire city has served as our classroom. Students have given presentations in front of the Pantheon, the Eiffel Tower, Les Invalides, Père Lachaise Cemetery, and many other places.
The professors have been having fun, too!