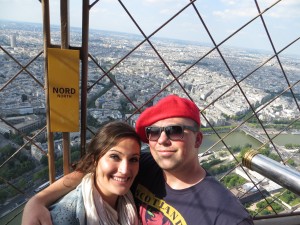 The one thing everyone pictures when they think about Paris is the Eiffel Tower. As soon as I arrived in Paris I started looking to the skies to find it; little did I know, Paris is a vast city and you can't see it from every part. For the first week in Paris I only saw it from afar and many of us on the trip joked that we were never going to see it. Finally, on my second week we took a boat trip that took us right next to it… It truly is breathtaking.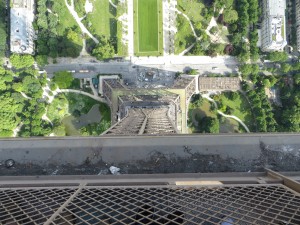 The view of the tower at night cannot be explained in words, so please take a look at the pictures. The next day we finally went to it. It is one of the biggest, if not the biggest, tourist spots in Paris. You can go to the very top and I would recommend doing it once in your life because the view from the top is amazing. It will take anywhere from half an hour to an hour to get to the top because of the lines, but it is worth it. You can see everything from the top, from the Arc de Triomphe to Notre Dame. Not only is the Eiffel Tower beautiful it has an amazing history.
It was built in 1889 for the World's Fair in Paris by Gustave Eiffel. It measures over 1,000 feet and it held the record for tallest manmade structure for over 40 years. It was not meant to be a permanent exhibit, since Gustave only had a 20 year permit. During World War I, it proved to be such a valuable resource for antennas so they left it up. It's a good thing that France left it up since it is the most visited paid monument in the world. There are three levels to the Eiffel Tower and all are reachable by the public. The bottom level, ground floor, is where you can reach the other levels. You can reach the second level by stairs but it really is quite high so prepare yourself. On the second story they have some good gift shops and a good café, so if you need some souvenirs they have them. From the second level, you can reach the top. You feel like you are on top of the world when you are at the top, especially since it is one of the tallest structures in Paris. The Eiffel Tower is the definition of Paris and for good reason. I hope it will be there for generations so my kids can see the beauty I did when I was younger.