Yesterday (May 19th), we discovered the slimy, rocky beauty of Storr's Lake, and tested things like the pH and salinity of the water. We did these things because we want to know more about the microbialites, which are algal mounds, that manage to survive these muddy waters.  In the picture below you can see a microbialite that has been removed from incredibly brown water.  That brown color is caused by organic matter in the water, and not clay as many people first suspect.  In fact there is no clay anywhere on San Salvador Island.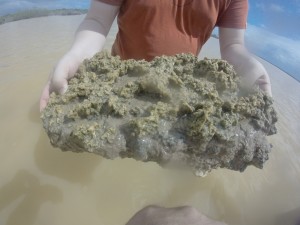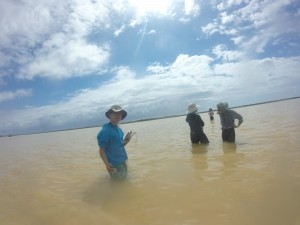 In the afternoon we went out to Pigeon Creek, where we ate lunch, and in the spirit of Caddyshack, we became the sediment. We let the current take us the same way it would transport sediment, and in this way we are given a chance to see just how the sand bars and beaches in the area form. While being the sediment, we also snorkeled and saw incredible things, ranging from the small anemones and algae, to the much larger stingrays and barracudas.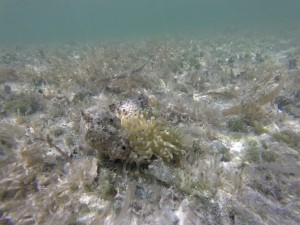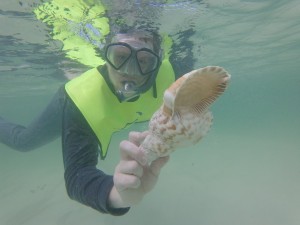 Following our two hour snorkeling session, we headed back to the Gerace Research Center, but not before playing tourist for a bit. We stopped at the Columbus monument, and the Mexico Olympic Torch monument during our day's circumnavigation of the island.