By Darci Graefser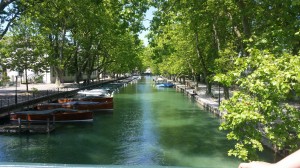 This morning I was reminded that today officially marks the halfway point of my France study abroad experience, and honestly, it is very bittersweet information. I do not think that anyone could have accurately warned me about how much I would miss home: my friends and family, a language that I am fluent in, and just the overall comforts of being in the culture I know. However, at the same time, I wish I could have more time to learn here. I feel like my French is improving immensely with each day that passes, and even beyond that, I believe my sense of cultural appreciation is continually growing.
My first night in Annecy was very difficult for me. I arrived at the train station and within minutes was whisked away, taken to the home of someone who was a stranger to me. At first, my brain had a very difficult time processing all the French that was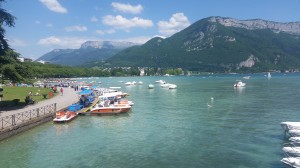 coming at me in rapid-fire mode and I was overwhelmed. I quickly learned that my homestay mom spoke no English, only Italian and French, and realized, just as quickly, how difficult a language barrier can be. I was lucky to be paired with such a wonderful host who is very patient with me when I struggle and is helping me to understand by explaining things in different ways until I comprehend them. However, it can be very frustrating at times when you are asked a question, have many thoughts about the topic, but lack the words to be able to convey that message. For the first few days, I found myself limited to yes/no answers and felt like I could not express the real me.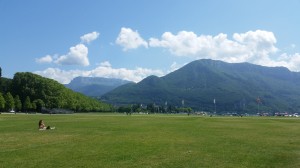 Thankfully, since I have arrived in Annecy, communicating has become a lot simpler. I am not sure if it is from becoming more familiar with the language through my classes, my host mom speaking slower, or some mixture of the two, but it is definitely a breath of fresh air. While I am here, I am taking a language intensive course at IFALPES and in my opinion, this is an incredible school. There are students in my class who are from all over the world (Japan, Ukraine, Germany, Libya, and Venezuela, just to name a few) and have come to learn French here in Annecy just like me. Since none of these countries share a native language, the only way we are all able to communicate with one another is through French. To me, this is amazing since we are continually putting our studies into practice with others whose French is at the same level as our own. Also, I think it is wonderful to be meeting friends from all over the world who are going through the same experiences as me and to learn how the culture here in France varies from the culture of our various home countries.
When the train started going through the outskirts of Annecy, I began to wonder if I had accidentally dozed off. I would not have been surprised if all of the sights around me were just a dream. The green mountains and sparkling blue lake made me feel like I was living in a fairy tale. Even now, nine days after I have arrived here I cannot get over the lakefront view with the mountains in the background. If you look towards the peak of the mountains, you can see snow. This is such an unbelievable contrast from the gorgeous 85-degree weather we have been having here. Since I have arrived in Annecy, I have made sure to walk to the parks in front of the lake each day and just take in everything around me. There is something magical about walking through the 'centre ville' with the multicolored buildings, gorgeous flowers, and sparking canals surrounding me that leaves me no doubt that Annecy is the most beautiful city I have ever seen.