By Ashley Crannick
Americans like to think that they know France.  Before I came to France, I had an idea in my head that the French people were rude, smelled bad, had overwhelming accents, and ate mounds of cheese.  America had created these stereotypes through the infamous Pepe le Pew and bad accents in movies, but a lot of what I thought France would be like has already been proven wrong in my first week here.  Although some stereotypes that Americans have of the French can be applied in situations, there is a whole different world to France than what is portrayed in the States.
I decided to come to France early alone as a way to build my navigation skills and confidence in myself as a traveler.  Haunted by jet-lag, I got off the plane and began my journey in this enormous, beautiful city.  My first impression of France began as soon as I got onto the train to reach my hotel.  Looking out the window, I could see signs with French words such as boulangerie and épicerie on these intricate, elegant, tan buildings that held symmetry throughout the city.  The city seemed so fast-paced, with people running to get onto the train at the stops and holding conversations at a quiet, yet speedy pace, and cars zipping around the streets trying to make every green light that they could.  I thought of all the movies I've seen that portray France; none of them could capture the extraordinary feeling of being here.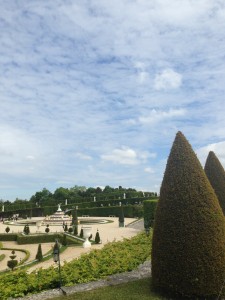 I was so proud of my navigation skills until it came to finding my hotel.  I walked the street back and forth about twenty times with all of my luggage until I finally found my destination!  After taking what was going to be a brief nap that turned into a long, deep slumber, I walked to a nearby café and had an experience I will never forget.  While sitting with my bubbly water (I had thought that carbonated water was the only water offered in France because I had misunderstood the server, but I found out later that was not true!), I had an experience I'll never forget. The people in the café were all chatting, when suddenly the bartender started humming a song.  Then suddenly, everyone started singing together and the entire café was filled with music.  I felt like I was in a movie with some sort of impromptu musical scene!  It was really cool to see the community get along so well and all come together over a song.  Even I started to sing along once I caught on to some of the chorus!
On Saturday, I went to Versailles, where I got to explore the old castle that French kings once lived in.  The palace was absolutely stunning, and a place that I'll never forget.  The gardens were so enormous. I got lost multiple times; however, I did not mind getting lost at all, because every time I took a new turn, there was another beautiful sculpture, fountain, or work of art for me to become mesmerized by.  It's hard to put into words the beauty and elegance that the Palace of Versailles holds.  It is just one of those places that people need to see for themselves.  I went to a restaurant for a well-deserved meal after walking around the gardens and palace for a good six hours.  The server there could tell I wasn't from around the area, but she played along with my poor French, and she actually talked with me and taught me a few words that would be useful in a restaurant setting.  The people in France are extremely friendly!  I headed back towards my hotel and actually stopped by the same café to say bonjour to my new friends.
That Sunday, the rest of the study abroad group arrived in the city.  With my luck, when I tried to check out of my hotel, my credit card did not work, and I ended up running late to the group lunch because I had to call the bank and fix the issues.  However, I did make it in time for the check-in at the Generator hostel that we are staying in for the week.  I was really nervous coming to the hostel because other than my friend Julie from class, I had only met the other girls on the trip at the pre-departure meetings.  Thankfully, we have a wonderful group of girls, and I have had such a good time with them.  We left for dinner around 6:00 p.m. and went to a lovely restaurant in the Latin Quarter.  This was the first time that I had seen the Latin Quarter, and I was absolutely speechless looking at the Fontaine St Michel.  The sophistication of the details of the fountain and the elegance that it brought to the city was breathtaking.  Madame Langston gave us a history lesson about the fountain, and I that's when I got really excited to learn more about the city.  I had seen landmarks like the Fontaine St Michel online before, but a picture does not do the real thing justice.  We walked a little by the Seine River, which provides another beautiful view of Paris, and continued as a group to dinner.  The restaurant was absolutely wonderful, with fresh flowers, a friendly staff, and terrific food.  I thought it was very interesting to be able to experience the differences between French dining and American dining.  The French eat dinner very leisurely with multiple courses in order to promote time for conversation and enjoyment.  I had such a good time bonding with my new friends that I've made on this trip!  I am so grateful for this opportunity to study abroad, and I cannot wait to see where this trip will take me.