By Ashley Crannick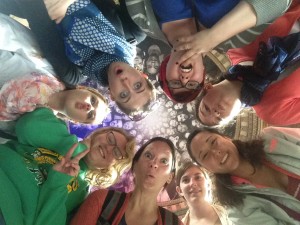 I have officially finished my first week in Annecy! What an amazing adventure so far. In the beginning, I was a little timid about staying with a host rather than living alone or with the group that I came here with. Living with a stranger in a foreign country isn't exactly the most comfortable situation in my eyes; however, living with a host has greatly improved my comprehension of the language and given me a different cultural outlook of the French people! I admit that the first couple of days it was tough to adjust. In Paris, I had a lot of people speaking English to me, so coming to Annecy was difficult because I had to completely immerse myself in the language and keep up.
My host and I had a couple of misunderstandings with where things go and how things worked in the house because of the language barrier, but once I got everything figured out, living in Annecy has been a dream. My host and I often watch game shows, tennis, or play French music, and she will explain what is popular. We talk about the differences between the United States (the size for example; everything in France is so small!), and we also talk about daily things like weather, school, and work. When I first arrived she gave me a short tour of the town, and we talked about our families and why I want to be here, all in French of course! She corrects my language while we are speaking, and teaches me new vocabulary often. It's a lot of fun because when we speak, I often teach her English, and she will teach me French.
My host has been an incredible help with my improvement in language, and I couldn't be more grateful for my living situation. The class I was put into in Annecy is much too easy for me, but I am still benefitting from it a lot! A little review never hurt anyone, and the classes are taught completely in French, so my comprehension has improved greatly. The teachers are terrific, and I really enjoy the way that they make you repeat a word until you say it correctly. We do exercises in class that exemplify the importance of saying a word correctly, because some words sound almost identical and yet are very different. I'm hoping to move into a more advanced level for next week. Annecy is absolutely the most beautiful city that I've been in yet! I couldn't ask for a better place to study. Annecy has tons of things to do, beautiful scenery, and a variety of shops and restaurants for me to choose from. I began the week by visiting with my neighbors, walking around, and familiarizing myself with the city. I actually made some friends by the lake playing volleyball, and I joined the summer league here to play every Wednesday! They made a special exception for me since I was from the United States and couldn't sign up earlier, I am so grateful!
My friends by the lake speak incredibly fast though, so it is sometimes hard to keep up with what they are talking about; but they are all wonderfully nice and pleasant towards me, and I am happy that I have found a group of people that I can bond with over volleyball. I am so excited about my stay here!