By Rosamond Hoyle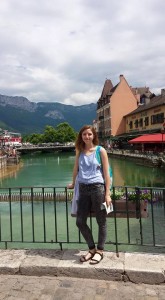 I grew up for a time in the Rocky Mountains in Colorado and I visited the Andes in Peru when I was 11. I am familiar with the beauty of mountains but I had no idea just how stunning and subtly different the Alps in Annecy would be: the immense blue-green lakes winding their way through the valley, the far-off peaks still crested with snow as sunbathers spread themselves out over the beach, and the light blue haze haloing it all.
While the scenery is beautiful, one of my favorite parts of the Annecy leg of this trip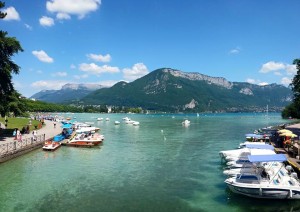 is the chance to see some different French culture. This was especially easy since we are staying with French host families. My host family lives up on the side of a mountain with an amazing view overlooking the lake and the town. It was very hard learning to live with them at first. Between the language barrier and figuring out the ins and outs of their household, I first thought that I would hate living with a host family. After the struggle of interpreting and then getting over all the eccentricities that come along with living with another family, something that accompanies living in a foreign situation and not just with a foreign family, I began to truly enjoy my time in Annecy.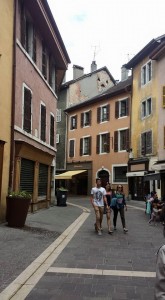 The efficient bus system can take me anywhere I want to go in the city. In the end, this is not necessary because, each day after class, we wander the same scenic centre ville for hours; shopping in little boutiques, walking and swimming in the lake, and eating ice cream almost every day. Annecy is like something from a storybook. The old cobblestone roads wind their way around churches and canals, all leading the to lake cradled by the mountains.
As the days have passed I have gotten used to riding the bus, going to school, and living with my host family. The scenery however, I could never get used to. Even during my last week here, the view as I ride the bus down the mountain to school in the morning still takes my breath away.