By Rachel K. Miller
Exhausted from the prior events of the week (and from being squished into people from the ceremony at the Panthéon Wednesday), the day began too early. We marched on to the Bastille Market and Katie gave a thorough presentation on the history of the area. The market is filled with small street shops and vendors that sell everything from fresh produce to cooked meals to scarves to shoes. I also saw stands for kids' toys and stands filled with beauty products, which was interesting. Like most of Paris, each stand was individualized and sold specific items.
After that, we went to Père Lachaise Cemetery, which is a gorgeous and famous cemetery. Rose gave her presentation on its history and gave a list of those she recognized that were buried there.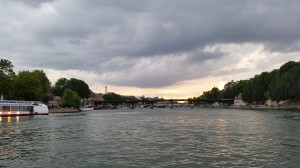 This is the graveyard where you pay your dues after your death in order to remain there. I would imagine the family plots are bought out in advance, but there was a wall filled with holes and small boxes where it could be surmised that the urns were removed. While we were there, we saw the graves of Guillaume Apollinaire, Edith Piaf, Chopin, Oscar Wilde, and Jim Morrison. There were also memorials for those involved in political turmoil. While many of the memorials were for WWII, I saw at least one from WWI and from other wars that France participated in.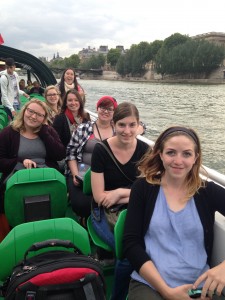 Next we went to the Shoah Memorial, which is a memorial for the Jews and others who suffered genocide during WWII and related events. There were many photos and artifacts from the time period and illustrated timelines with the events leading up to and ending WWII and to the creation of the museum. I was surprised to find out how many of the memorials in Paris were created after much time had passed since the events had occurred.
After a bit of free time, we went on a boat tour on the Seine. It was a lovely tour with views of the Eiffel Tower and other main sights of Paris. It was nice to be able to relax and view Paris without tracing it all out by foot. It was a nice finale for the day with beautiful weather. Perhaps a little cold on the boat, but nothing a good Parisian scarf couldn't handle.