This spring break, four S&T students are traveling to Bolivia to study Spanish, visit cultural sites, and meet with faculty at the Universidad Mayor de San Andrés in La Paz. Their trip is sponsored in part by a grant from the U.S. Department of Education, via the Undergraduate International Studies and Foreign Language (UISFL) Program. Students received additional scholarships from the Department of Arts, Languages, and Philosophy and the College of Arts, Sciences, and Business. Dr. Jorge Porcel (Arts, Languages, and Philosophy) and Dr. Joe Guggenberger (Geosciences and Geological and Petroleum Engineering) are accompanying the students, who will be posting information here about their experiences. Meet the bloggers:
JORDAN PRYOR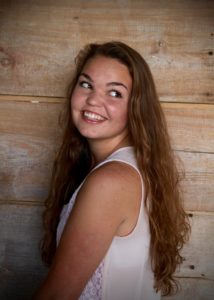 Hello! My name is Jordan Pryor and I am from Springfield, Missouri. I am a freshman here at S&T and I am studying engineering management with a minor in Spanish. I traveled to Costa Rica two years ago, which is where I fell in love with the culture of Latin American countries. Obviously, the cultures vary greatly throughout Central and South America, but I have found that they all are very vivid and exotic, which is fascinating to me. When this study abroad opportunity was first brought to my attention, I immediately knew it was perfect for me. I have always known that I wanted my career to be something that makes a difference, no matter how big or small of a change I can make. After college, I hope to be able to carry out this dream, along with living out my passion for Spanish-speaking cultures by helping in some of the underdeveloped areas in countries such as Bolivia. I hope that this trip will only open my eyes more to the culture as well as some of the issues that exist outside the bubble of the United States.
LAUREN REYNOLDS
My name is Lauren Reynolds and I am a sophomore studying engineering management, Spanish, and French. I am from Wildwood, Missouri, and transferred to Missouri S&T from another university, where I was studying to get a Spanish major and a French minor and was considering being a Spanish teacher. There, I also played softball for the university. Now, I have given up softball and am very involved in Zeta Tau Alpha and Engineers Without Borders. One of my biggest passions is to travel and I have had the chance to study in France for a month and a half last summer and to visit Bolivia for two weeks the summer prior. Some of my hobbies are spending time with family and friends, traveling, and drinking coffee (yes, I definitely consider this a hobby). I decided to participate in this study abroad because I think Bolivian history and culture is very interesting, so having the opportunity to research it and go back to Bolivia for a class is awesome. An interesting fact about myself is that my favorite animal is a cat and I adopted a kitten named Chester last fall. Something cool about this picture is that it was taken last time I was in Bolivia in one of my favorite cafés, "La Vainilla."
CONNOR YARNALL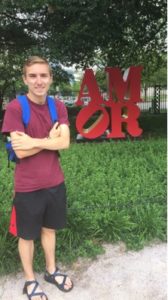 My name is Connor Yarnall and I'm a sophomore majoring in geological engineering and minoring in Spanish. This is my first opportunity to study abroad with Missouri S&T but not my first time abroad. I have been to Italy and it was there that I started to fall in love with experiencing other cultures. I have been studying Spanish for eight years now and I believe I am in a position to start utilizing my language skillset. Bolivia has a rich history and I could think of no other place begin my journey of exploring Hispanic culture.
I'm extremely excited for this trip. I love the mountains, and the city of La Paz sits at twelve thousand feet of elevation. I am also a long-distance runner and the higher the elevation, the harder exercising becomes. I have never run at an elevation at that level, and I might try to, just to see how it feels!
I hope to gain an eye-opening experience by travelling to La Paz, Bolivia. It's so easy to get caught up on our own small worlds that we forget how big the world is around us.
ANNA MEYER
Hello, my name is Anna Meyer. I am currently enrolled in my fourth semester at Missouri S&T. The degree that I am seeking is in environmental engineering. Ever since I was a kid, I have cared so much for this planet that gives me a place to call home. I would love to give back by learning as much as I can about our environment and using that knowledge to benefit the world. I am from Sullivan, Missouri, which is a small country town not far from Rolla, Missouri. My favorite thing about home is going to the Meramec State Park and also lounging around with my cats. At Missouri S&T, I spend my free time going caving and hiking in the surrounding areas. I am currently working on my minor in Spanish, which I will have upon completion of this semester. I have never been out of the country, so this trip to Bolivia will be a treat! I plan to study abroad in South America next semester in hopes of bettering my Spanish-speaking abilities. I dream of becoming fluent in Spanish and moving to South America permanently to find more solutions for environmental sustainability.